When resetting your support portal password you might see the following message after submitting your email address. This is especially the case if you are using private-mode browsing especially Chrome and Opera, but not in Edge or Firefox.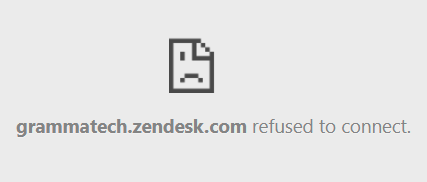 The "codesecure.zendesk.com refuses to connect" error comes from privacy settings that block third-party cookies. This is coming either from your browser directly or from third-party addons.
To fix this problem, you need to enable third party cookies. For instructions on allowing third-party cookies in Chrome, see this Google Chrome Help article: Delete, enable, and manage cookies in Chrome.
If your browser has ad blockers, turn them off to see if they allow you to sign in. Some ad blockers have their own list of exceptions. If that's the case for you, add codesecure.zendesk.com to the list of allowed exceptions.
The problem doesn't appear to happen when using a non-private browsing mode.
Issue description by Zendesk:
https://support.zendesk.com/hc/en-us/articles/360055399513-Error-Refused-to-connect